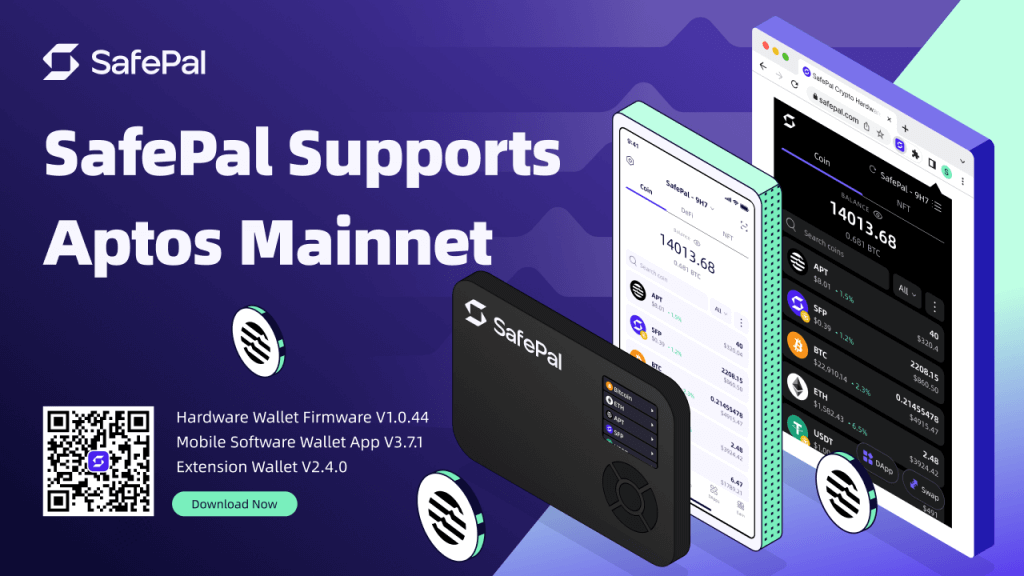 Dear SafePal community,
The SafePal team is pleased to announce official support for Aptos, including the mainnet, APT coin, as well as all tokens and DApps based on Aptos. With SafePal wallet version 3.7.1 and later, you can now manage Aptos assets safely and efficiently. The SafePal S1 hardware wallet is now the first hardware wallet to support the Aptos network as a result of this integration. In the crypto space, SafePal will continue to support the latest and most popular projects.
Guide on how to set up your SafePal Wallet
Aptos mainnet APT tokens and DApps are supported by the SafePal wallet. You will learn how to interact with your favorite blockchain with SafePal's software, hardware, extension wallets below.
1) How to Set Up a SafePal Software Wallet
2) How to add & send Aptos $APT coin with SafePal Software Wallet

3) How to add & send Aptos $APT coin with SafePal Hardware Wallet
4) How to add & send Aptos $APT coin with SafePal Extension Wallet
About SafePal
SafePal is a comprehensive crypto management platform that provides hardware wallet, software wallet, and browser extension wallet solutions. With powerful web3 solutions powered by industry leaders such as Binance, allowing users to store, manage, swap, and trade their crypto assets. We now serve more than 7 million users across the globe with hardware wallets, software wallets, and browser extension wallet product lines. We support 15 languages, 50+ blockchains, 100,000+ tokens, and also NFTs. The project is also integrated with Binance DEX and Binance Spot Trading, as well as DApps on Ethereum, BNB Chain, Solana, Tron, Polygon, and other networks.
Where To Secure Your Aptos Assets In SafePal Wallet
SafePal offers three types of decentralized wallet solutions that help crypto users manage, swap, trade, and secure their cryptocurrency assets. All three types of wallets can be interconnected with one another allowing users to explore the web3 world the way they like.
Mobile Software Wallet
The SafePal mobile software wallet is a free application that users can download on their smartphones to securely manage, trade, and swap their favorite cryptocurrencies on the go as well as explore the DeFi world in the most convenient way.
Download the SafePal Wallet Here
S1 Hardware Wallet
The SafePal S1 hardware wallet is an electronic device that helps protect users' private keys providing the ultimate level of cryptocurrency protection by keeping your private key secured offline. Eliminate online attack vectors and individuals with malicious intent from stealing your cryptocurrency assets.
Learn more about the S1 hardware wallet here
Browser Extension Wallet
The SafePal browser extension wallet is the newest edition to the SafePal product line, offering users an improved desktop wallet experience for both EVM and Non-EVM blockchains as well as atomic swap capabilities.
Learn more about the SafePal browser extension wallet here
Stay informed about SafePal news and updates by visiting our website www.safepal.com, following our Twitter or subscribing to our other social media channels