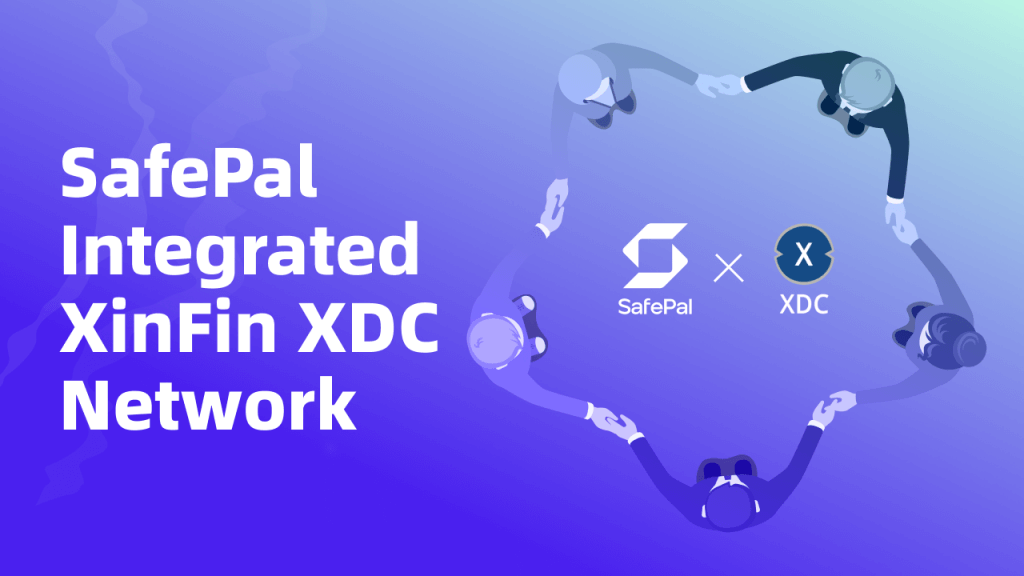 Dear community,
We are delighted to announce that SafePal has received a grant from XinFin XDC Network, a hybrid blockchain protocol specializing in tokenization for real-world decentralized finance. This marks the beginning of the SafePal & XinFin partnership. Users now can secure and manage their XDC assets and DApps safely and easily through SafePal wallets. Coming next, both sides will work together to bring the safe and easy SafePal experience to the XDC Network community through various initiatives.
"Thanks to XinFin, this grant will benefit the XDC Community by providing access to the innovative SafePal hardware, software, and mobile wallets. Trusted by more than six million users, SafePal offers cross-chain compatibility along with a suite of decentralized programs, and is an ideal integration for the XDC Network to advance into the future of Web3.", said Billy Sebell, Executive Director at XDC Foundation and Director of Ecosystem Development North America at XinFin XDC Network.
About SafePal
Founded in 2018, SafePal is a complete suite of secure crypto management solutions accessible to seasoned crypto veterans and newcomers. The project was also one of Binance Labs' first and only hardware wallet investments in their incubation program. SafePal now serves more than six million users across the globe with hardware wallets, software wallets, and browser extension wallet product lines. These are paired and managed through the SafePal App, where users can easily store, manage, swap, and trade their assets. SafePal supports 15 languages, 52 blockchains, 100,000+ tokens, and NFTs. The project is also integrated with Binance DEX and Binance Spot Trading, as well as DApps on Ethereum, BNB Chain, Solana, Tron, Polygon, and other networks.
How to use XDC Network in SafePal Wallet
SafePal offers three types of decentralized wallet solutions that help crypto users manage, swap, trade, and secure their cryptocurrency assets. All three types of wallets can be interconnected with one another allowing users to explore the web3 world the way they like.
Mobile Software Wallet
The SafePal mobile software wallet is a free application that users can download on their smartphones to securely manage, trade, and swap their favorite cryptocurrencies on the go as well as explore the DeFi world in the most convenient way. How to add & send tokens $XDC with SafePal Software Wallet guide here
Download the SafePal Wallet Here
S1 Hardware Wallet
The SafePal S1 hardware wallet is an electronic device that helps protect users' private keys providing the ultimate level of cryptocurrency protection by keeping your private key secured offline. Eliminate online attack vectors and individuals with malicious intent from stealing your cryptocurrency assets. How to add & send tokens $XDC with SafePal Hardware Wallet guide here
Learn more about the S1 hardware wallet here
About XinFin XDC Network
The XinFin XDC Network is an open-source, carbon-neutral, enterprise-grade, EVM-compatible, Layer 1 blockchain that has been operationally successful since 2019. The network obtains consensus via a specially delegated proof-of-stake (XDPoS) technique that allows for 2-second transaction times, near-zero gas expenses ($0.0001), over 2000 TPS, and interoperability with ISO 20022 financial messaging standards. The XDC Network powers a wide range of novel blockchain use cases that are secure, scalable, and highly efficient.

Find more information about XinFin XDC Network by visiting our website XinFin.org and follow us on our social medias: Twitter || Telegram || LinkedIn || Reddit || Facebook || Forum