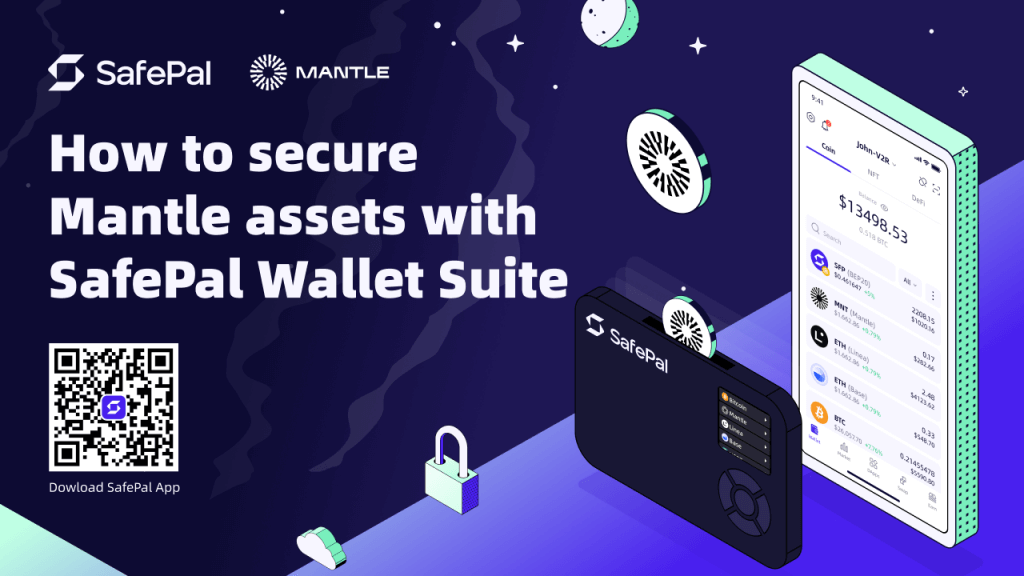 Hello SafePal Community,
It is with great pleasure that we announce the integration of Mantle Network ($MNT), an Ethereum rollup driving mass adoption of token-governed technologies, into SafePal Wallet.
SafePal is excited to support $MNT through its comprehensive hardware wallet, mobile app, and browser extension solutions. Other native Mantle tokens will also be compatible with SafePal software, hardware, and browser extension wallets.
Refer to this user guide on how to store, send and receive tokens via the SafePal mobile app here and hardware wallet here. More information about SafePal hardware wallets can also be found here, and the browser extension guide will also be updated here once support is ready.
Additionally, users will now be able to manage native tokens and assets on Mantle Network seamlessly across 100+ blockchains via SafePal's cross-chain swap. This marks another step in SafePal's mission to empower users to own their crypto and web3 adventure in a limitless future.
SafePal will also be looking to integrate Dapps for users to explore the Mantle ecosystem seamlessly through the SafePal wallet suite.
About Mantle:
Mantle Ecosystem comprises an Ethereum layer 2 (L2) — Mantle Network, a decentralized autonomous organization (DAO) — Mantle Governance, one of the largest on-chain treasuries — Mantle Treasury, and an upcoming Ether (ETH) liquid staking product — Mantle LSD: all built on Ethereum. Mantle token is the unified product and governance token of the ecosystem.
Mantle's first core product is Mantle Network, an L2 technology stack for scaling Ethereum. Mantle Network strives to be compatible with the Ethereum Virtual Machine. Mantle Network's modular architecture separates transaction execution, data availability, and transaction finality into modules — which can be individually upgraded and adopt the latest innovations. Mantle Network is the first L2 to partner with ETH restaking protocol EigenLayer for the data availability module. By adopting a rollup architecture, Mantle Network is secured by Ethereum. As the world's first DAO-spawned L2, Mantle Network is pioneering a vision for the mass adoption of token-governed technologies.
Mantle token ($MNT) powers Mantle Network as its native gas token and ecosystem growth token, and serves as the governance token of Mantle Governance. All future Mantle products will likewise be initiated by the Mantle token holder community through vote and powered by Mantle token.
To support the next-generation of innovators, builders, and developers, Mantle is growing its ecosystem via Mantle Grants Program and Mantle EcoFund, a catalyzed capital pool of $200M.
For more information, please visit
Website | X/Twitter | Devs X/Twitter | Discord | Telegram | YouTube | Blog | GitHub
About SafePal:
Founded in 2018, SafePal is a comprehensive crypto wallet suite providing hardware wallet, mobile app, and browser extension wallet solutions. As a non-custodial wallet suite, SafePal aims to allow users to own their crypto adventure, by empowering them to access opportunities securely in the decentralized world.
The SafePal platform is backed by industry leaders Binance Labs, Animoca Brands, and SuperScrypt; serving over 10 million users globally and supporting 15 languages, 100+ blockchains with their fungible and non-fungible tokens. It also encompasses crypto asset management solutions like cross-chain swapping, trading and yielding tools for users.
SFP is a decentralized BEP-20 and ERC-20 utility token serving as the growth engine of the SafePal ecosystem, and can be used to purchase SafePal products at a discount, converted seamlessly to gas across chains in the app, in addition to rewarding token holders and education programs. Stay informed about SafePal here