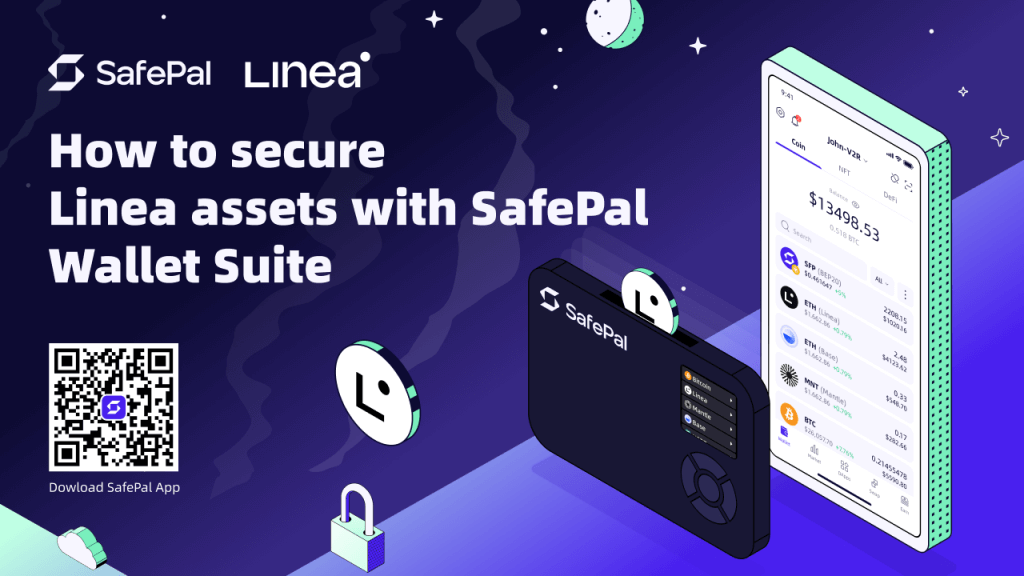 Hello SafePal Community,
It is with great pleasure that we announce the integration of Linea, a zkEVM rollup for scaling Ethereum Dapps, into SafePal Wallet.
SafePal is excited to support Linea through its comprehensive hardware wallet, mobile app, and browser extension solutions. Native Linea tokens will also be compatible with SafePal software, hardware, and browser extension wallets.
Refer to this user guide on how to store, send and receive tokens on Linea Mainnet via the SafePal mobile app here and hardware wallet here. More information about SafePal hardware wallets can also be found here, and the browser extension guide will also be updated here once support is ready.
Additionally, users will now be able to manage native tokens and assets on Linea Mainnet seamlessly across 100+ blockchains via SafePal's cross-chain swap. This marks another step in SafePal's mission to empower users to own their crypto and web3 adventure in a limitless future.
SafePal will also be looking to integrate Dapps for users to explore the Linea ecosystem seamlessly through the SafePal wallet suite.
About Linea:
Linea is a network that scales the experience of Ethereum. Its out-of-the-box compatibility with the Ethereum Virtual Machine enables the deployment of already-existing applications, as well as the creation of new ones that would be too costly on Mainnet. It also enables the community to use those dapps, at a fraction of the cost, and at multiples the speed of Mainnet.
It does this by leveraging quantum-resistant lattice-based cryptography to create zero-knowledge proofs that include every transaction performed on the network, and rolling them up to Mainnet. This ensures that every transaction is recorded to the Ethereum ledger while dividing the cost of that security by magnitudes.
About SafePal:
Founded in 2018, SafePal is a comprehensive crypto wallet suite providing hardware wallet, mobile app, and browser extension wallet solutions. As a non-custodial wallet suite, SafePal aims to allow users to own their crypto adventure, by empowering them to access opportunities securely in the decentralized world.
The SafePal platform is backed by industry leaders Binance Labs, Animoca Brands, and SuperScrypt; serving over 10 million users globally and supporting 15 languages, 100+ blockchains with their fungible and non-fungible tokens. It also encompasses crypto asset management solutions like cross-chain swapping, trading and yielding tools for users.
SFP is a decentralized BEP-20 and ERC-20 utility token serving as the growth engine of the SafePal ecosystem, and can be used to purchase SafePal products at a discount, converted seamlessly to gas across chains in the app, in addition to rewarding token holders and education programs. Stay informed about SafePal here