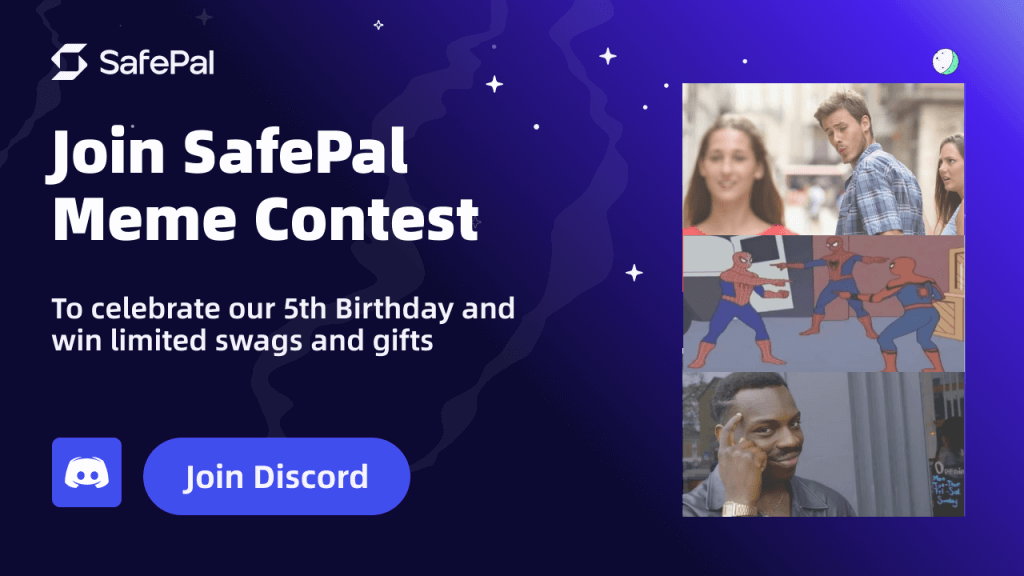 The Meme Contest is organized to celebrate the 5th Anniversary of SafePal! The challenge starts on 08.02.2023 at 12:00 UTC and will end on 28.02.2023 at 12:00 UTC. The whole SafePal community around the globe is eligible to participate in the contest. Complete a few simple steps mentioned below and participate!
Condition
Join SafePal Discord Server.
Each participant is allowed to submit two entities.
Your meme should be original with a theme centering around the SafePal core values and its 5th anniversary:

1) Safety is proactive,
2) Power belongs to our users, and
3) Radical change is human-centered
How to Join the Meme Contest
Follow SafePal on Twitter
Like and Retweet the contest post
Send a new post and hashtag #SafePal
Share the link of your tweet in the SafePal Discord channel
😀|meme-submission
Prize Pool
1st Place: SafePal VIP box, refrigerator magnet, mouse pad
2nd Place: SafePal hoodie, refrigerator magnet, mouse pad
3rd Place: SafePal T-shirt, refrigerator magnet, mouse pad

All shortlisted entries will be featured on the SafePal social media platforms.
Winner Selection
Winners will be selected from all the entrants who have submitted an entry before the deadline of February 26 at 12:00 UTC.
Participants with the most original, authentic , and/or funny memes are more likely to be chosen.
Scammer Warnings
The contest result will only be published on this server. We won't DM you or send you a winning notice in your inbox. During the contest, please beware of scammers, be vigilant, and do not disclose your info.
Hope you enjoy the event!
SafePal Team