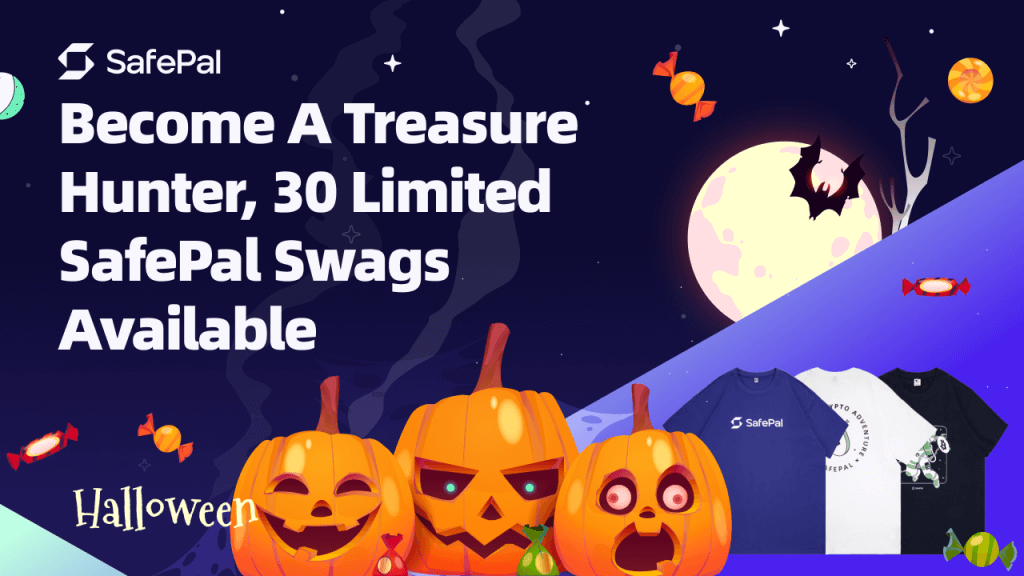 The Main Task
Welcome to the SafePal 2022 Halloween Treasure Hunt to solve puzzles and win a unique SafePal Swag!
The event will start at 2pm UTC on October 27th and end at 11:59 pm on October 31st. The activity will be divided into two phases:
From October 27th, we will display a picture divided into four on different SafePal official social media and randomly display 1/4 of the image on one social media daily. Each photo has a unique code called "candy" on it. Participants are required to like and follow these social media and leave a comment. After all the pictures have been displayed on day 4, participants must put the photos in the correct order, post them using their own Twitter account and tag the official SafePal Twitter account. Meanwhile, participants also need to restore all "candies" to the unique code, enter it into the "Halloween" channel of the SafePal discord server, and enter the code they think is correct. They will get a reply from the community robot. Once you get a response, you are finally eligible for the sweepstakes. Next, please submit relevant information as required, and we will review and finalize the list of winners.
Hidden Task
We will open the hidden mission on the 4th day of the event: 
A secret code divided into six parts will be made into 6 "candies" and hidden on any three pages displayed on the Site Map. Participants must find all 6 "candies" and put them in the correct order to restore the original secret code and enter this code into the "Halloween" channel of the SafePal discord server, then submit the required information by the community robot. We will draw five lucky participants who have restored the secret code correctly before the end of the event and reward each with a SafePal S1 hardware wallet.
The final list of winners will be announced on Twitter on the 11th. Stay informed about SafePal news and updates by visiting our website www.safepal.com, following our Twitter or subscribing to our other social media channels.

Warning: Please note that the information we collect will only be used to send prizes to winners, and all user information will be deleted immediately after the event ends. SafePal will not ask anyone for wallet private keys and mnemonics. Please be careful of any scammers trying to trick you.