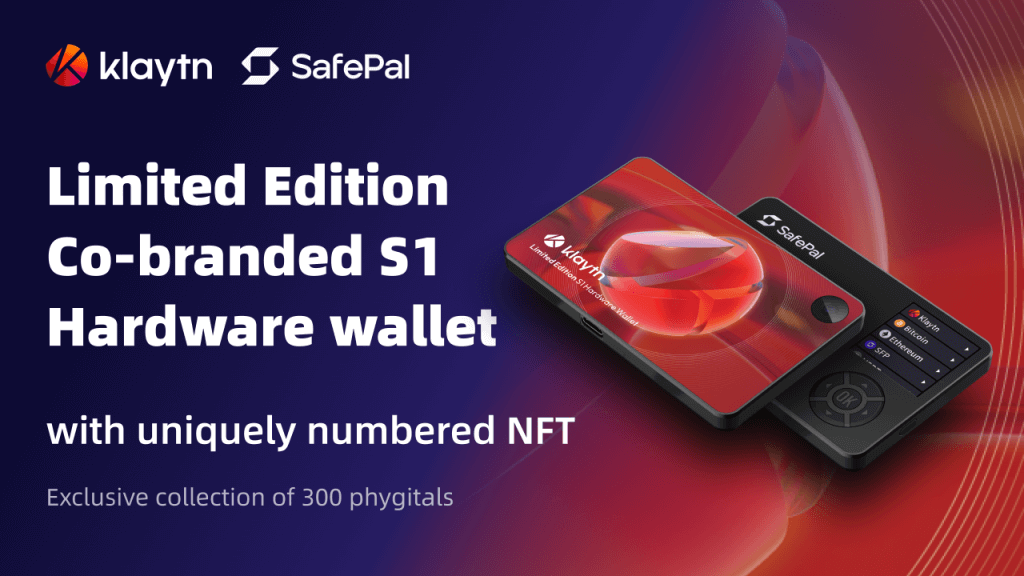 Hello SafePal Community,
It is with great pleasure that we announce the launch of a limited edition co-branded phygital wallet together with Klaytn Foundation, as a continuation of the partnership announced earlier in May this year.
Exclusively produced in a collection of 300 co-branded S1 hardware wallets with corresponding uniquely numbered NFTs; the one-time design represents the vibrance of the Klaytn ecosystem and reaffirms the mutual commitment with SafePal to enhancing crypto security and user experiences in Web3.
The limited edition wallets are the same price as the standard S1 at $49.99 USD, with the added bonus of free standard global shipping. Users will be able to purchase the specially-designed wallets with $KLAY here, and refer to the guide on how to redeem the corresponding NFT here.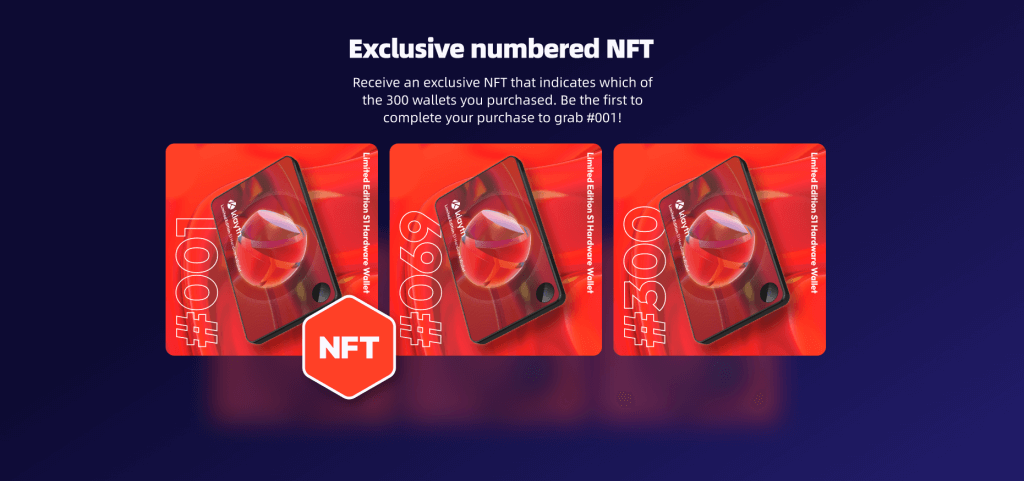 SafePal is excited to continue exploring more collaborations with Klaytn and work closely with established Dapps in the Klaytn ecosystem, to bolster Web3 adoption and security in South-Korea and the rest of the world.
About SafePal:
Founded in 2018, SafePal is a comprehensive crypto wallet suite providing hardware wallet, mobile app, and browser extension wallet solutions. As a non-custodial wallet suite, SafePal aims to allow users to own their crypto adventure, by empowering them to access opportunities securely in the decentralized world.
The SafePal platform is backed by industry leaders like Binance, Animoca Brands, and SuperScrypt, serving over 10 million users globally and supporting 15 languages, 100+ blockchains with their tokens and NFTs. It also encompasses crypto asset management solutions like cross-chain swapping, trading and yielding tools for users.
SFP is a decentralized BEP-20 and ERC-20 utility token and the growth engine of the SafePal ecosystem, and can be used to purchase SafePal products at a discount, converted seamlessly to gas across chains in the app, in addition to rewarding token holders and education programs.
Stay informed about SafePal here
About Klaytn
Developed by leading Korean IT company Kakao, Klaytn is a global Layer 1 public blockchain designed to power tomorrow's on-chain world. With the lowest transaction latency amongst leading blockchains, enterprise-grade reliability, and a developer-friendly environment, Klaytn provides a seamless experience for users and developers that is second to none.
Since its launch in June 2019, Klaytn has been accelerating blockchain mass adoption through a broad array of use cases from DeFi to real-world assets, entertainment and gaming, and even the Bank of Korea's CBDC pilot project.
Today, it is one of the only globally competitive Web 3.0 ecosystems developed in South Korea, generating more than 1 billion transactions from over 300 decentralized applications.