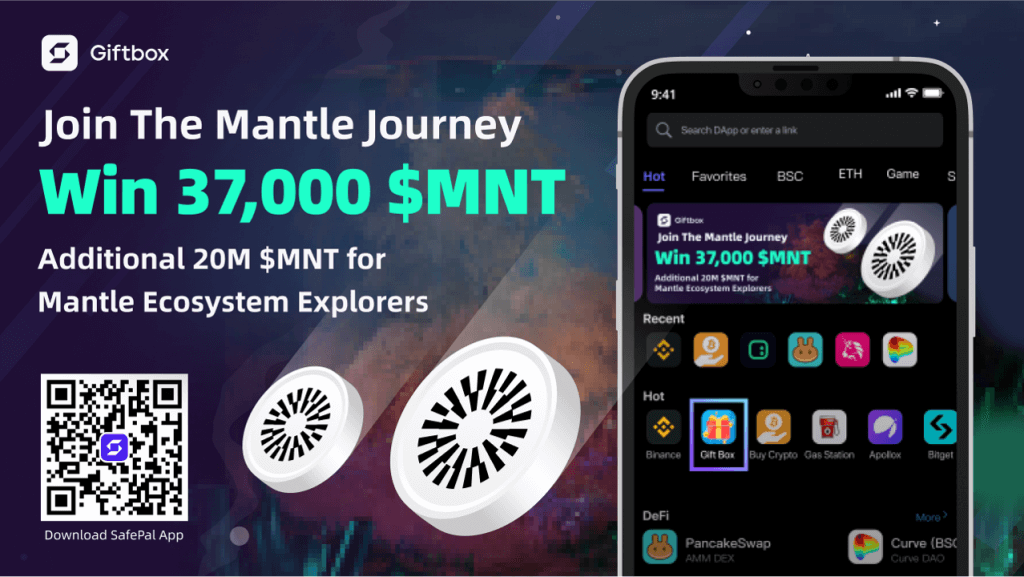 Dear SafePal Community,
To celebrate the integration of Mantle network into the SafePal wallet suite, we are excited to announce a Giftbox event with Mantle starting from 22nd Sep 2023, 10 AM UTC – 29th Sep 2023, 10 AM UTC with a 37,000 $MNT reward pool for our community!
How to Participate in the Giftbox Event

Make sure you have downloaded and set up the latest version of the SafePal wallet. Here are some useful tutorials for the wallet setup process:

Download latest version of SafePal App
Setup and create a SafePal Software Wallet
Recover a wallet in the SafePal App via mnemonic phrase

Next, navigate to the SafePal Dapp center and choose the Giftbox option in the SafePal Dapp. After that, fulfill the tasks and requirements.


What are the Giftbox Tasks and Requirements?

Users must meet the whitelist requirements to be eligible for the 37,000 $MNT reward pool, and fulfill the following tasks:
1. Have at least 5 $MNT(On Mantle network) in the wallet balance
2. Join the Mantle's journey and finish all 3 tasks
3. Join the SafePal Discord here
How will the winners be notified?
After completing all Giftbox tasks, a green checkmark ✅ will appear next to each task. You can check if you have won a prize at Giftbox's redeem center 48 hours after the event ends 29th Sep 2023, 10 AM UTC
How do winners claim their reward?
The winners will be airdropped the $MNT rewards to their wallet address 48 hours after the event ends on 29th Sep 2023, 10 AM UTC
Full Disclaimer:
Activity Rules:

SafePal reserves the right to disqualify participants that are deemed to be spammers or illegally bulk registered accounts, as well as activities that display attributes of exploitation or market manipulation.
SafePal reserves the right to cancel or amend any activity or activity rules at our sole discretion.
Not Investment Advice
This activity does not constitute investment advice, financial advice, trading advice, or any other sort of advice and you should not treat any of the article's content as such. SafePal does not recommend that any cryptocurrency should be bought, sold, or held by you. 
Cryptocurrency investment is subject to high market risks. Please invest cautiously. SafePal will not be responsible for any investment losses. SafePal will not be liable whatsoever for any direct or consequential loss arising from the participation of its activities. 
Do conduct your own due diligence and consult your financial advisor before making any investment decisions.
Non-Endorsement
The appearance of a third party on SafePal and its activities does not constitute an endorsement, guarantee, warranty, or recommendation by SafePal. 
Do conduct your own due diligence before deciding to invest in any third-party projects or use any third-party services.
About Mantle:
Mantle Ecosystem comprises an Ethereum layer 2 (L2) — Mantle Network, a decentralized autonomous organization (DAO) — Mantle Governance, one of the largest on-chain treasuries — Mantle Treasury, and an upcoming Ether (ETH) liquid staking product — Mantle LSD: all built on Ethereum. Mantle token is the unified product and governance token of the ecosystem.
Mantle's first core product is Mantle Network, an L2 technology stack for scaling Ethereum. Mantle Network strives to be compatible with the Ethereum Virtual Machine. Mantle Network's modular architecture separates transaction execution, data availability, and transaction finality into modules — which can be individually upgraded and adopt the latest innovations. Mantle Network is the first L2 to partner with ETH restaking protocol EigenLayer for the data availability module. By adopting a rollup architecture, Mantle Network is secured by Ethereum. As the world's first DAO-spawned L2, Mantle Network is pioneering a vision for the mass adoption of token-governed technologies.
Mantle token ($MNT) powers Mantle Network as its native gas token and ecosystem growth token, and serves as the governance token of Mantle Governance. All future Mantle products will likewise be initiated by the Mantle token holder community through vote and powered by Mantle token.
To support the next-generation of innovators, builders, and developers, Mantle is growing its ecosystem via Mantle Grants Program and Mantle EcoFund, a catalyzed capital pool of $200M.
For more information, please visit
Website | X/Twitter | Devs X/Twitter | Discord | Telegram | YouTube | Blog | GitHub
About SafePal
Founded in 2018, SafePal is a comprehensive crypto wallet suite providing hardware wallet, mobile app, and browser extension wallet solutions. As a non-custodial wallet suite, SafePal aims to allow users to own their crypto adventure, by empowering them to access opportunities securely in the decentralized world.
The SafePal platform is backed by industry leaders Binance Labs, Animoca Brands, and SuperScrypt; serving over 10 million users globally and supporting 15 languages, 100+ blockchains with their fungible and non-fungible tokens. It also encompasses crypto asset management solutions like cross-chain swapping, trading and yielding tools for users.
SFP is a decentralized BEP-20 and ERC-20 utility token serving as the growth engine of the SafePal ecosystem, and can be used to purchase SafePal products at a discount, converted seamlessly to gas across chains in the app, in addition to rewarding token holders and education programs. Stay informed about SafePal here