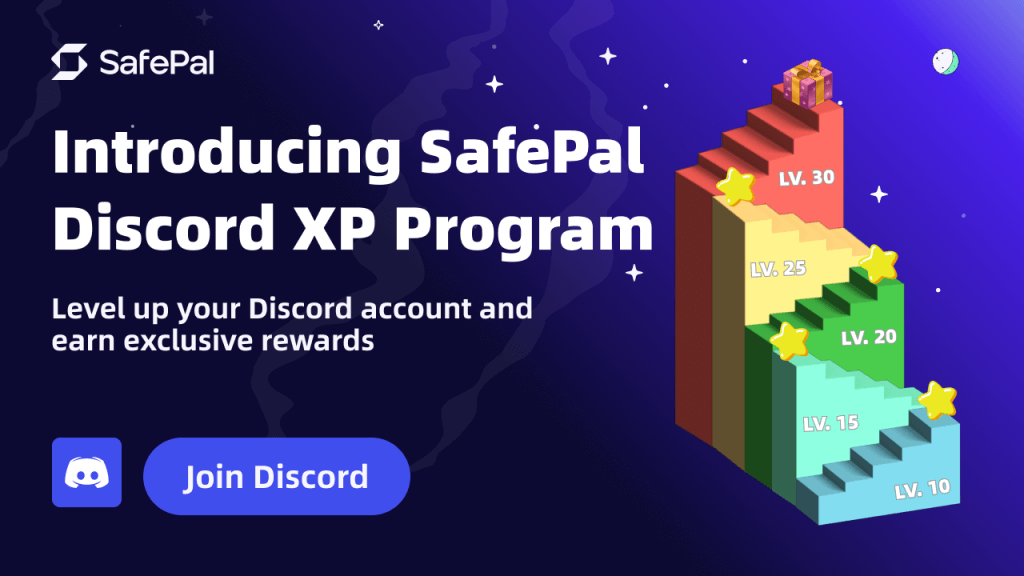 Dear community,
Since December 2021, SafePal Discord community has grown from a small group to an active, large and loving community with more than 66,000 members. In the Discord community, all of us learn, talk, and grow together every day. We are grateful for all of you being an active part of the community. To build a better, more engaging and useful community for all of you and provide unique experience for those who are actively participating in the community engagement, we are delighted to introduce the Discord XP (Experience Point) program. By leveling up your Discord XP, you will enjoy exclusive rewards, gifts and swaps from SafePal! If you are still not a member of SafePal Discord, you are welcome to join in by clicking this link.
What is the Community Join-and-Earn XP Campaign?
Every SafePal Discord community member can gain their XP(experience point) by joining the community chat, and get your exclusive role and redeem the rewards. Having experience in the SafePal Discord is important for reaching a higher level. And this campaign will allow you to gain XP by joining the chat, making contributions, and sharing your reviews, etc. .
Don't forget to get onboard right away! 
The community has created three exclusive roles/badges as the three level achievements.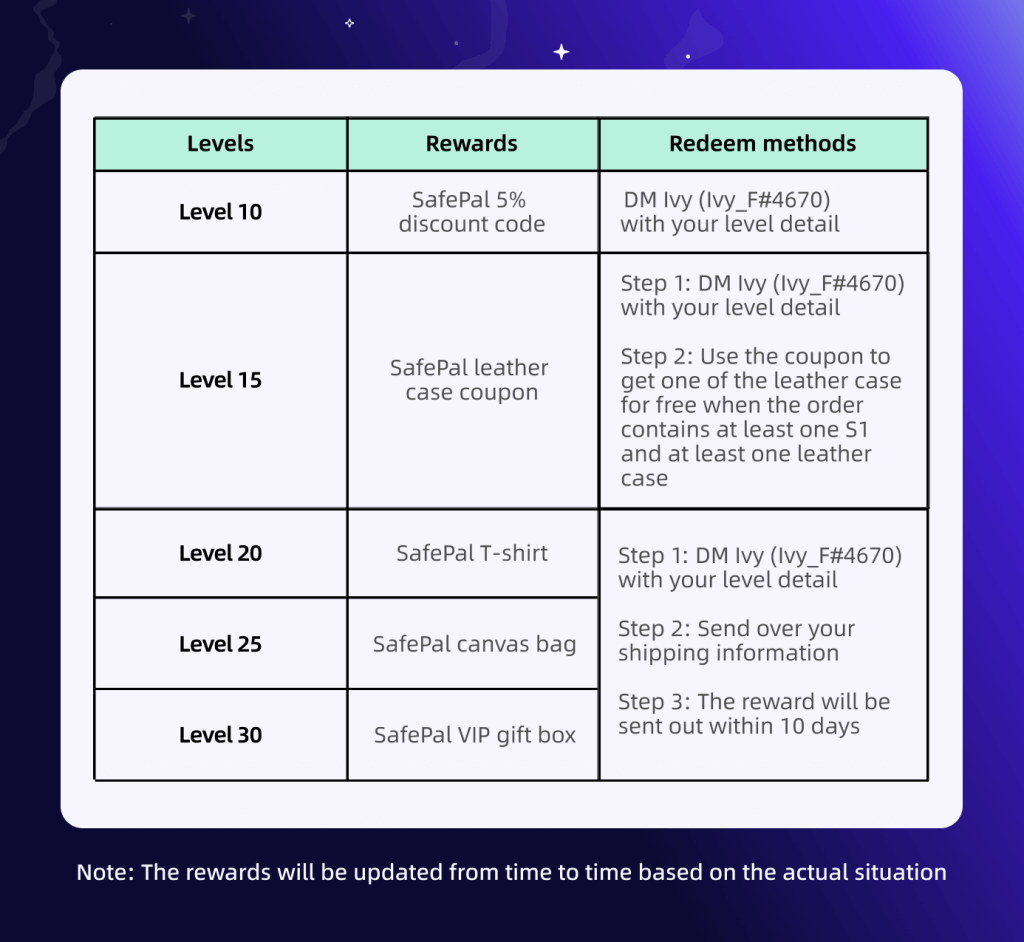 How to earn XP and get your level up?
Join in the chat! 
You will be automatically given the XP by interacting with other members in any of the text chat channels. 
Report scammers or bugs!
You got the chance to earn the XP by reporting scammers or bugs in the #📞︱scammer-report and #🧰︱bugs-report channels. Don't forget to tag Ivy(Ivy_F#4670) for the confirmation of your reports and redeem your XP. 
Create your artwork! 
Tag Ivy(Ivy_F#4670) and share your creations that are posted on other social platforms about SafePal to get the XP after the confirmation! 
Post your reviews! 
Writing reviews for SafePal team/products in other social platforms to get XP from Ivy(Ivy_F#4670). 
Special contributions! 
We will also give XP to anyone who makes special contributions to the community,  including but not limited to, becoming one of the mods of the community! 
Participating in other community campaigns! 
Participating in other specific campaigns and earning XP (we will note that if a campaign is available for earning XP).
Where to track your level?
#🆙|xp-program – Check the latest updates about the event
#🥇|level-up – Send the command to track your current level and rank
How to redeem your rewards?
We will process the distribution of the rewards from the 1st to the 7th of each month. Please DM Ivy_F#4670 at Discord for claiming your rewards. 
FAQs
Q: I have reached level 30, can I redeem all of the rewards in one time?
A: Yes, you can claim all of your rewards at each achievement level in one time, and each person can only claim each achievement reward once. Once you successfully claim your rewards, your claims will be recorded. 
Q: What if I leave the SafePal Discord accidentally, will my XP be removed? 
A: Data is stored so if you rejoin in future, you will regain the levels they had prior to leaving.