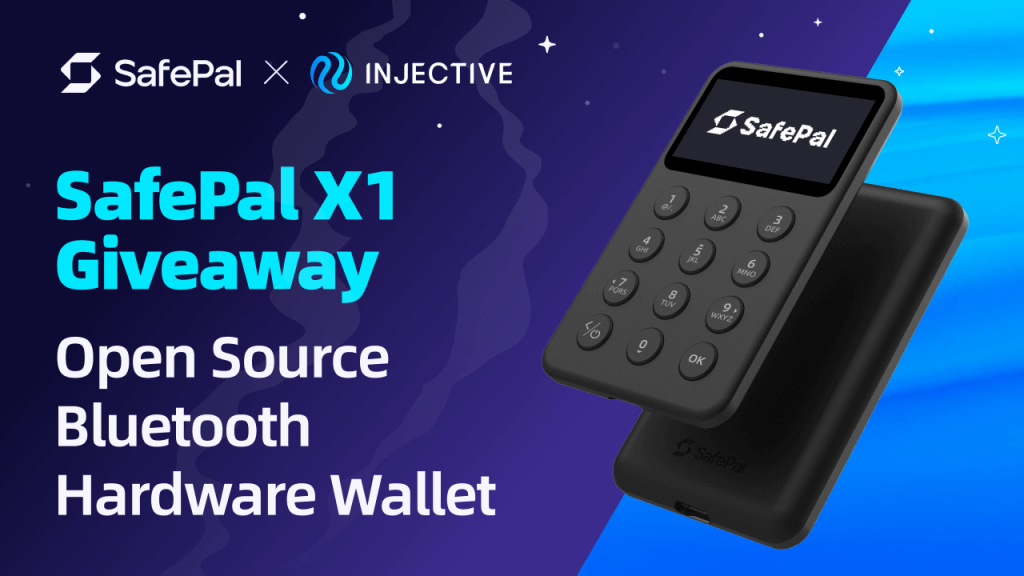 To commemorate the 2nd anniversary of Injective along with the exciting launch of the SafePal X1 hardware wallet, Injective is organizing a giveaway where three Bluetooth and open source SafePal X1 hardware wallets will be up for grabs!
About SafePal Wallet
Founded in 2018, SafePal is a comprehensive non-custodial crypto wallet suite backed by industry leaders such as Binance, Animoca Brands, and Superscrypt. SafePal aims to empower users to own their crypto adventure by accessing opportunities securely in the decentralized world via its hardware wallet, mobile app, and browser extension wallet solutions.
The SafePal platform serves more than 10 million users across the globe in 200+ regions and countries, supporting 15 languages, 100+ blockchains with their tokens and NFTs. It also encompasses crypto asset management solutions like cross-chain swapping, trading and yielding tools for users. Stay informed about SafePal here
About Injective
Injective is a lightning fast interoperable layer one blockchain optimized for building the premier Web3 finance applications. Injective provides developers with powerful plug-and-play modules for creating unmatched dApps. INJ is the native asset that powers Injective and its rapidly growing ecosystem. Injective is incubated by Binance and is backed by prominent investors such as Jump Crypto, Pantera and Mark Cuban.
Event Period
16th Nov 10 AM UTC – 18th Nov 10 AM UTC
How to participate
Step1
Download SafePal App safepal.com/download
Step2
Navigate to "Giftbox" within the SafePal Wallet app. You can find it under Dapps > Giftbox.
Step3
Click on the "X1 Giveaway" campaign to join the raffle.
Step4
Read the landing page and complete the social task on X/Twitter.
Click the "X reward" button to complete the task.
Authorize SafePal to access your X/Twitter account. The SafePal X App will automatically perform the following tasks:

Follow both projects' X accounts.
Retweet and like the campaign post.

Once completed, click the "Verify" button to confirm.
Step 5
Click the "Join Raffle" button
How to claim
Participants will be able to check the results of this campaign on SafePal within 24 hours after the event ends by following these steps:
Go to SafePal > Giftbox > Redeem Center.
Locate the 1 X1 reward.
Enter your shipping information to claim your reward.