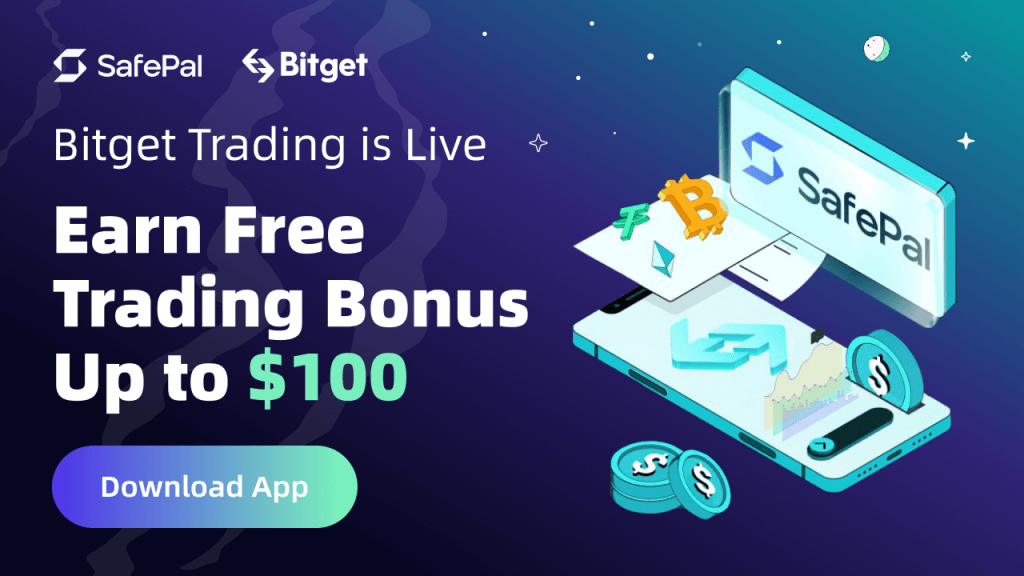 Dear SafePal Community,
SafePal is proud to announce a campaign with Bitget, which will allow users to win up to $100 bonus and rewards!
The campaign will last from March 2nd 00:00 UTC – March 9 00:00, UTC 2023, and consist of two tiers. Here's how to participate:
Activity 1: $5 Signup Bonus
Get $5 USDT Trading bonus FREE by depositing any amount in USDT. The rewards will be raffled to 500 lucky winners daily for 7 days!
1. Download the latest version of the SafePal App here
2. Create a wallet (for new users)
3. Open a Bitget account through SafePal
4. Make an initial deposit of any amount in USDT
5. Rewards will be distributed to the winners' asset accounts within 24 hours
Activity 2: Deposit to win $100
Win up to $100 on net deposits! Top 1,500 depositors will be rewarded 10% of their net deposit amount.
1. Net Deposit is the difference between total deposits and withdrawals for the whole event
2. Rewards will be distributed to the Bitget Trading Bonus accounts of winners within three working days after the event ends.
Participation limit:
One device ID is allowed to participate only once in the activity. Bitget reserves the right to evaluate and determine participation eligibility.
Guides:
Download latest version of SafePal App
Setup and create a SafePal Software Wallet
Recover a wallet in the SafePal App via mnemonic phrase
Register for a Bitget account
Make a USDT Deposit in Bitget
FAQs:
Q1 Can users who have already opened a Bitget account in SafePal join the campaign?
No, this event is limited to newly signed-up Bitget accounts. Users who already have a Bitget account can participate by creating a new SafePal wallet and signing up for a new Bitget account.
Q2 How do I check for the Bitget trading bonus?
If you win the lucky trading bonus, it will be shown on the Bitget trading bonus account. Users can review their Bitget trading bonus account within 48 hours after the deposit.
Q3 How do I check for the Net deposit reward?
Users can review their Bitget trading bonus account in SafePal 3 working days after the event ends. If you have won the net deposit reward, it will be shown on the Bitget trading bonus account.
Q4 What are the uses of the Bitget trading bonus?
-To make futures trades (including copy trades)
-Can be used to offset transaction fees, losses, and funding fees for trading futures
-Can be used as margin to open a position
Q5 Under what circumstances will the Bitget trading bonus become invalid?
-When you withdraw the deposit, your trading bonus will become invalid and become zero, which cannot be recovered or reversed.
-Your account will first use the trading bonus to trade and offset future transaction fees.
-If you make a profit, you can withdraw the deposit and profit. However, if the trading bonus is not used up before the withdrawal, it becomes invalid/zero irreversibly.
Full Disclaimer:
Activity Rules:
SafePal reserves the right to disqualify participants that are deemed to be spammers or illegally bulk registered accounts, as well as activities that display attributes of exploitation or market manipulation.
SafePal reserves the right to cancel or amend any activity or activity rules at our sole discretion.
Not Investment Advice
This activity does not constitute investment advice, financial advice, trading advice, or any other sort of advice and you should not treat any of the article's content as such. SafePal does not recommend that any cryptocurrency should be bought, sold, or held by you.
Cryptocurrency investment is subject to high market risks. Please invest cautiously. SafePal will not be responsible for any investment losses. SafePal will not be liable whatsoever for any direct or consequential loss arising from the participation of its activities.
Do conduct your own due diligence and consult your financial advisor before making any investment decisions.
Non-Endorsement
The appearance of a third party on SafePal and its activities does not constitute an endorsement, guarantee, warranty, or recommendation by SafePal.
Do conduct your own due diligence before deciding to invest in any third-party projects or use any third-party services.