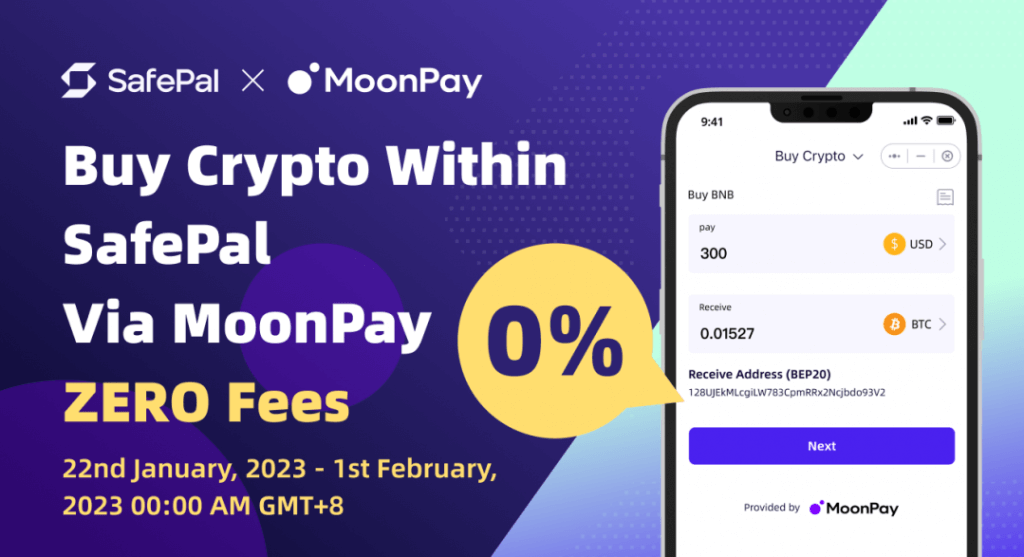 Dear SafePal Community,
SafePal is proud to announce our partnership with MoonPay, allowing users to purchase crypto within the SafePal app without leaving it. From now until 1st Feb 2023, 00:00 AM GMT+8, users can enjoy ZERO PROCESSING FEES on all purchases made using MoonPay in the SafePal App.
Users will be able to On-Ramp Crypto without paying any processing fees for ten days (10) during the Lunar new-year period (network fees will still apply). Here is a guide on how to buy crypto using MoonPay in the SafePal App. The promotion will apply to all available order amounts.
Users of SafePal can purchase over 35 coins using convenient payment methods such as credit cards, debit cards, Apple Pay, Google Pay, and bank transfers. Our partnership with MoonPay makes this possible.
SafePal will continue to provide convenient access to all SafePal products on different platforms to the Web3 community. Join us here if you would like to stay updated on the latest SafePal updates and news.
About MoonPay
MoonPay is the world's leading web3 infrastructure company. Its suite of on-and-off-ramp products provides a smooth experience for converting between fiat currencies and cryptocurrencies using all major payment methods, including debit and credit cards, local bank transfers, Apple Pay and Google Pay. MoonPay is active in more than 160 countries and is trusted by 450+ partners, including leading wallets, websites, and applications
About SafePal
Founded in 2018, SafePal offers a complete suite of secure crypto management solutions such as cross-chain swapping, trading and yielding tools for seasoned crypto veterans and newcomers.
SafePal now serves more than 7 million users across the globe and supports 15 languages, 55 blockchains with their tokens and NFTs through its unique hardware wallets, software wallets, and browser extension wallet product lines. These are paired and managed through the SafePal App. The SafePal S1 is also the first and only hardware wallet to receive strategic investment in 2018 by Binance Labs, the venture arm of Binance.
SFP is a decentralized BEP-20 utility token serving as the growth engine of the SafePal ecosystem, and can be used to purchase SafePal products at a discount, converted seamlessly to gas across chains in the app, in addition to rewarding token holders and education programs.
SafePal aims to allow users to own their crypto adventure, by empowering investors toward financial opportunity and freedom in the decentralized world.