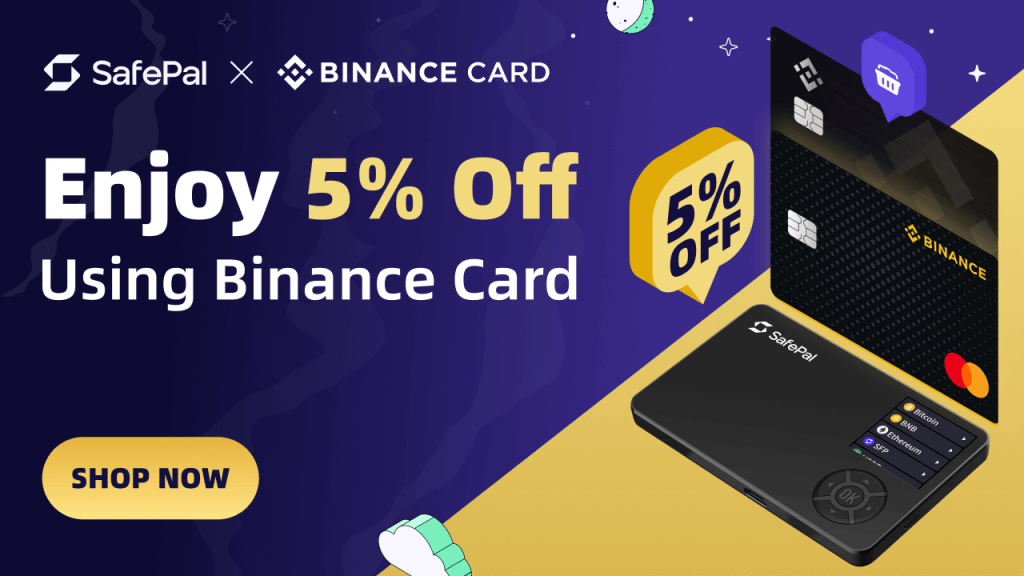 We are thrilled to announce that SafePal has partnered with Binance Card so users can receive BNB cashback on eligible purchases. SafePal and Binance Card will collaborate to allow the SafePal community to use their cryptocurrency for real-world purchases.For the duration of the partnership, users can Enjoy 5%OFF on the SafePal S1 Hardware Wallet.This is an exclusive offer to Binance Card holders where the coupons are in limited quantity. SafePal becomes the first hardware wallet to partner with a credit card with this integration. With the Binance Card partnership, SafePal will provide convenient access to all SafePal products on different platforms to the Web3 community. This promotion only applies to users in EEA countries, except for The Netherlands, Germany and Binance Refugee Crypto Card holders.
About Binance Card
Binance Card is essentially a Visa debit card that is linked to your Binance account and allows you to spend and withdraw crypto anywhere that Visa is accepted. It is a prepaid card just like a regular debit card and has to be pre-loaded with crypto beforehand. It can be used at more than 60 million merchants across 200 regions and territories around the world which accept Visa cards. There are 14 supported cryptocurrencies on Binance Card: ADA, AVAX, BNB, BTC, BUSD, DOT, ETH, LAZIO, PORTO, SANTOS, SHIB, SXP, USDT and XRP.
For more info, please find it here.
About SafePal
SafePal is a comprehensive crypto management platform that provides hardware wallet, software wallet, and browser extension wallet solutions. With powerful web3 solutions powered by industry leaders such as Binance, allowing users to store, manage, swap, and trade their crypto assets. We now serve more than 7 million users across the globe with hardware wallets, software wallets, and browser extension wallet product lines. We support 15 languages, 50+ blockchains, 100,000+ tokens, and also NFTs. The project is also integrated with Binance DEX and Binance Spot Trading, as well as DApps on Ethereum, BNB Chain, Solana, Tron, Polygon, and other networks.
Stay informed about SafePal news and updates by visiting our website www.safepal.com, following our Twitter or subscribing to our other social media channels