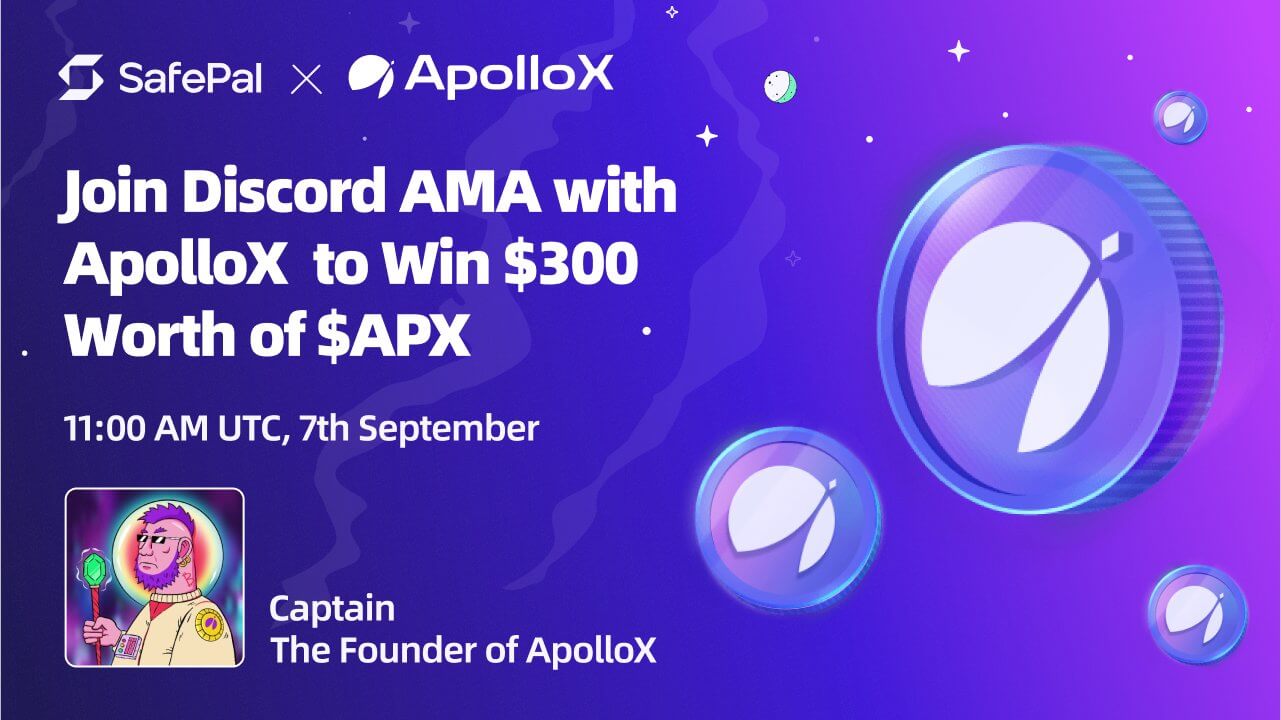 On September 7th, 2022, welcome ApolloX come to our discord community has an AMA. Thank you Captain the founder of ApolloX for sharing specific information about ApolloX, so that we can better understand ApolloX. This article will help you review the AMA event, below are the details for your reference.
🎤FIRST SEGMENT: Fireside Chat🎤
C: Captain
I: Ivy
I: Welcome @everyone to this exciting AMA with ApolloX! 🎉We are pleased to welcome Captain @ApolloX , co-founder of ApolloX.🎉
C: Hello everyone! thanks for having me SafePal team😊
I: Would you like to introduce yourself to us first?😉
C: hey everyone! as mentioned I am Captain, the founder of ApolloX and am excited to be here to share about futures trading and all the upcoming events happening!
I: Alright! We'll first have a few questions to @ApolloX directly before starting the community AMA session.
C: sounds good!👍
I: Let's get started!👏
Q1: Could you give a brief Introduction on ApolloX (for those that did not join TwitterSpace)?
C: Certainly! ApolloX is the leading decentralized solution shaping Web3 trading, these are our two main products: DEX and the DEX Engine.
abit more on both here:
DEX: the biggest decentralized crypto derivatives exchange on BNB Chain.
DEX Engine: a ready-to-go trading solution for businesses to launch their own derivatives DEX.
We also wanted to share that ApolloX has having deep liquidity because of its unparalleled order-book matching and settlement model. This allows users to trade efficiently with minimal slippage.
And lastly, there is a wide selection of popular product offerings (68 to choose from!) and we also offer multi-assets mode for your convenience as well.
I: Thank you for the introduction! 🥰These years, more and more people are get involved in the crypto-currency industry.
Q2: For these new users, could you share why one should trade futures?
C: Thats a great one! well, there are quite a number of benefits to trading futures.
This includes:
Firstly, decentralization – having custody over your funds is a plus!
Also you have the flexibility (if you are a non-crypto holder) to speculate on the price of a cryptocurrency to make a profit!
Also you have leverage where you can gain significant exposure to a cryptocurrency with only a fraction of its total cost.
Also crypto futures markets are extremely liquid making it less risky to enter and exit.
And lastly, for portfolio diversification, you can diversify your strategies for more profit too.
So many great reasons why one should start trading futures in my opinion!
I: 👍Q3: More specifically, why should one trade futures on ApolloX DEX in regards to the collaboration with SafePal?
C: haha thanks for that question~
We would highly recommend trading futures on ApolloX DEX because our product is easy to use. We have worked hard on ensuring that the user experience is extremely smooth so we do recommend giving it a go.
In addition, thanks to our collaboration with SafePal, our DEX is now easy to access if you download the SafePal app!
ApolloX also has 24/7 customer service to help you with any issues you might encounter along the way.
And last but not least, ApolloX treats security with the utmost importance and you can be assured that we are always upgrading and improving our security systems. ApolloX DEX's smart contract has also been audited by Certik.
So we would recommend giving ApolloX a go to try it out yourselves!
I: That's awaesome!
Q4: For a new user to DeFi, how can one get started trading futures on the SafePal app?
C: Its quite easy now thanks to SafePal!
All you have to do is download the SafePal app
Click on the ApolloX Dapp
Click on the wallets icon
Pick the wallet you would like to connect (ensure you have sufficient funds)
Make a trade!
you can also refer to the how to guide created: https://blog.safepal.com/apollox/ it is very clear and helpful😊
I: It doesn't seem complicated, I believe many people can easily start their trading trip from now.👍
C: yes definitely
I: Q5: Do you have any tips on how to manage/mitigate the risks when trading futures?
C: oh this is an important one!
Doing your own research is always the most important, do not just heed others' opinions/advice without verifying the credibility of it.
It is important to keep in mind that when trading futures, the profits and losses will be amplified due to the leverage.
Hedging your position with futures if you really understand the products can help too!
Lastly, try to take profit when you can. If the market is unpredictable, it is always best to protect yourselves first.
I: Q6: Could you share more about the token utility of APX?
C: certainly!
Definitely, our native token APX has many use cases such as,
you can use APX to pay for trading fees, boost trading rewards
get staking interests,
also for DAO voting and reward distribution!
we are always working on improving our token use case, thus we expect more use cases to be added in the future. so stay tuned!
I: Q7: Could you elaborate more on the DAO?
C: definitely!
We launched the DAO governance model in our bid to increase ApolloX's degree of decentralization.
We also wanted to create a transparent and autonomous structure for the development of the platform which would allow us to easily adapt to market changes.
Our users' inputs help to improve the overall structure and management of the DAO and aid the majority to align toward a common shared interest
Latest DAO proposal that was passed: Add APX unlock function to the DAO, you can find out more here: https://apollox.zendesk.com/hc/en-us/articles/10063808874649-ApolloX-DAO-s-proposal-to-add-the-APX-unlock-function-to-the-DAO-system-has-passed-
I: Now let's talk about the roadmap, which is always the most-interesting part for the community.
Q8: Are there any recent upgrades, launches that you are excited to share with our community?
C: yes haha, everyone's always wondering!
Glad to share, we recently introduced our prediction game ApolloXplore where users will get to explore different galaxies and win rewards while participating in activities!
Currently we are in the pre-sale phase and will hopefully be able to officially launch the game by Q4 2022. this is something we are all looking forward to so get ready~
Not a new upgrade but I would like to highlight that ApolloX has a Grid Trading bot for strategic trading on our DEX.
Essentially what this does is to place orders at predetermined intervals within a specified price range – sets you up to buy low and sell high. Which many users find extremely useful.
So yep, these are a few things that we have launched/will launch soon!
I: Looking forward to seeing more exciting news from your team!
Q9: Lastly, any exclusive rewards just for our community?😍
C: oh yes!! i might have accidentally given it away just now
but yes we do!
There is currently a $2,000 Airdrop still ongoing till the 12th of September so don't miss out on the rewards!
All you have to do is connect your wallets and make a first trade of any amount to win, more information here: https://blog.safepal.com/apollox/
I: Exactly, do not forget to join the airdrop guys!
All right, let's go on to the next part!
🎤SECOND SEGMENT: Community AMA🎤
I: When we announced the AMA, we also asked our community to share their questions about what they're interested in knowing about ApolloX. @ApolloX Kindly select 5 questions from the thread #SafePal x ApolloX AMA and answer them!
C: okay!
https://discord.com/channels/909067029791776819/1016804321251315784/1016807319096533032
Q1: What's your plan for keeping the project up and running during this bear market???
A: Bear market does affect our business, but not as much as spot DEX. Users could either short or long, so they could make profit from both bull and bear market. And we are always seeking for more cooperation with DEX partners to expand our business.
okay on to the next question!
C: https://discord.com/channels/909067029791776819/1016804321251315784/1016820517061263440
Q2: Recently, the concept of GameFi,Metaverse,nft has become one of the hot topics in crypto world, so why did your team also choose to join the track? How do you see the current development status of this track, the possible future development prospects and the potential market size?
A: We do see a huge potential in gaming industry and that's why we'd like to have a bite. NFTs would be a perfect fit for all kinds of properties in games. Not mentioning the metaverse, I think no one knows how large the market would be. We will keep monitoring progress of NFTs and metaverse.
C: https://discord.com/channels/909067029791776819/1016804321251315784/1016826141887168613
Q3: How do you see ApolloX being implemented in the web3 industry? Do you consider making some big partnerships?
A: We are working with some NFT marketplace and game projects, who would like to be our partners. Futures trading would be a fundamental needs of users, we believe there is a room of cooperation with all the trading nature platform.
C: https://discord.com/channels/909067029791776819/1016804321251315784/1016923765524926514
Q4: We all know Futures is really different with Spot trading, up to how many leverages can a user apply on every trade on Futures? Do you recommend it for beginners?
A: We offer up to 200x leverage. We always emphasis on risk management and advise our users to start small. Do not invest too much till you build up your own trading system and never take too much risks that you could not bear!
C: https://discord.com/channels/909067029791776819/1016804321251315784/1016952927329460224
Q5: One of the biggest aspect for success of the project is community support. And the vast majority of large projects have programs that interact with their users. My Questions is, Do you have a specific plan to engage and expand your community and improve the user experience?
Is there any telegram group?
A: We definitely value our community a lot and we hold campaigns in our community from time to time. Here is our telegram and discord community and welcome to join:
Telegram: https://apollox.link/site-tg-announcement
Discord: https://apollox.link/site-discord
I: That's a lot questions! Thanks for your informative answers! @ApolloX👍
C: happy to answer them!
🎤Third SEGMENT: Quiz🎤
I: Now we'll start the final segment! !
ApolloX has prepared a quiz for the community here.
The community has 24 hours to answer the quiz. The first 10 participants getting the full score of the quiz will be winners of this section. Don't forget to provide your address and your ApolloX DEX UID.
On the count of three, get yourself ready for the quiz
https://forms.gle/g5yPJQSWq5kLkVUP7

Thanks to @ApolloX for giving your time to answer the SafePal community's questions, and thanks to all of you for taking the time to learn more about ApolloX.🥰
C: thank you Ivy and SafePal team for having me! it was a pleasure and i look forward to our continued partnership!
I: Keep up to date here with all the great and fantastic announcements we have in store.
Also, we will announce the winners from the quiz part of this AMA event in 24 hours later!

Find out more about ApolloX
ApolloX Website: https://www.apollox.com/en
ApolloX Telegram link: https://t.me/apollox_com
ApolloX Twitter: https://twitter.com/ApolloX_com