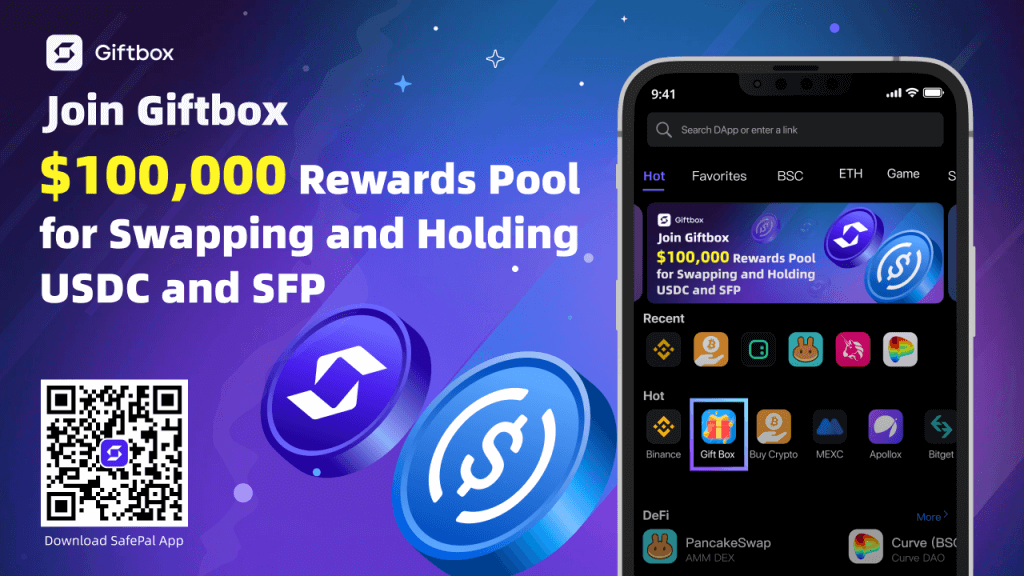 Dear SafePal Community,
Following the popular reception for the recent USDC Zero swap fee campaign, SafePal is excited to announce a follow up giftbox event starting from 27th April 11 AM UTC – 11th May 11 AM UTC 2023 with a $100,000 USDC reward pool for our community!
Users can learn how to swap and hold $SFP and $USDC, and the first 20,000 whitelisted users will earn $5 USDC rewards each for taking part in the event.
How to Participate in the Giftbox Event
Make sure you have downloaded and set up the latest version of the SafePal wallet. Here are some useful tutorials for the wallet setup process:
Please refer to the full guide here for the event. For any queries about this event, please go to the #USDC-Campaign channel in the SafePal Discord community here.
What are the Giftbox Tasks and Requirements?
Meet Whitelist Requirement
To meet the whitelist requirement, users must have used the SafePal mobile app, browser extension, or hardware wallet at least once between January 1st and April 26th, 2023 (11AM , UTC).
Complete the Giftbox quiz
Twitter ( Retweet the campaign tweet and follow SafePal)
Discord (Join SafePal)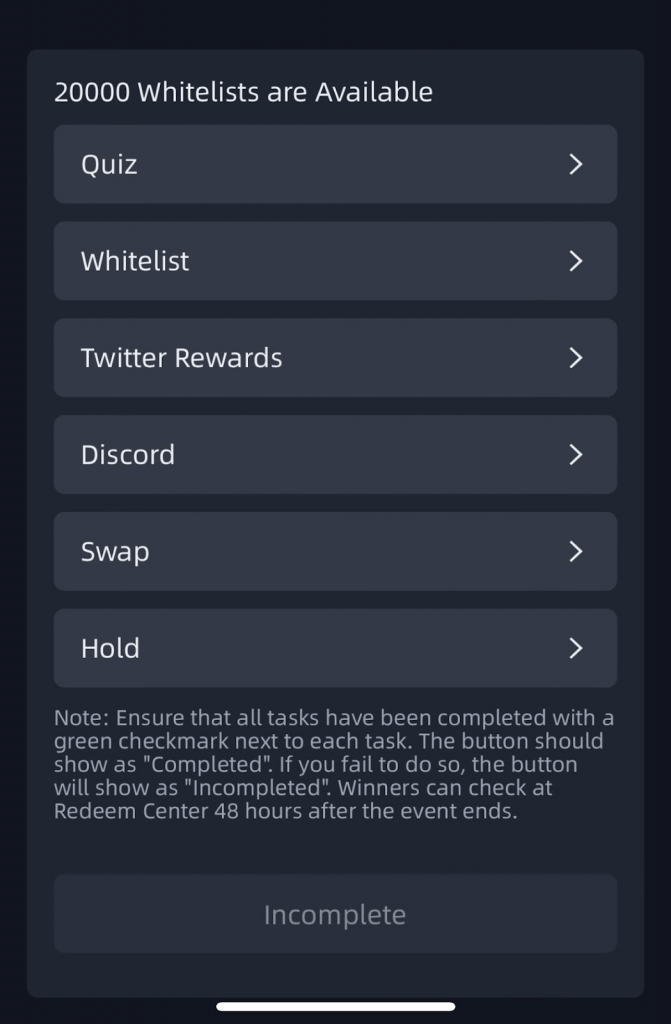 Swap into 200 USDC
Swap any asset with SafePal swap into 200 USDC. Please refer to this guide here for how to execute swaps using SafePal Wallet. During the event, it's free to swap USDC up to a limit of $10,000 per wallet address.
Hold $SFP and $USDC
Store at least 100 SFP and 200 USDC in the wallet balance for at least 3 consecutive days and until the campaign ends.
Note: From the third day, the amount of SFP tokens required for the user to hold will increase by 10, starting from 100 and increasing to the maximum requirement of 150 SFP tokens.(The amount of USDC required stays the same at 200 throughout)
Token/
Amount
Day 1
Day 2
Day 3
Day 4
Day 5
Day 6
Day 7
Day 8
Day 9
Day 10
Day 11
Day 12
Day 13
Day 14
$SFP
100
100
110
110
120
120
130
130
140
140
150
150
150
150
$USDC
200
200
200
200
200
200
200
200
200
200
200
200
200
200
Note: A snapshot will be taken on April 26th, 2023, at 11AM UTC. You must meet the whitelist requirements to participate in the event.
FAQs
Can I join this Giftbox campaign on any date?
Please note that all Giftbox tasks must be completed before May 8th, 11AM UTC. The button allowing users to participate in the Giftbox and verify the start of the holding period will no longer function after the 11th day (May 8th, 11AM UTC). Users are required to hold for at least 3 consecutive days until the end of the campaign.
Can the 200 USDC and 100 SFP be removed from my wallet balance during the campaign?
To qualify for the reward, you need to keep a wallet balance of at least 100-150 SFP and 200 USDC for three consecutive days until the end of the campaign. For more details, please see the "Hold Task" table. Snapshots will be taken at various intervals during the event to confirm compliance with the requirements. Failure to meet the holding requirements in any of the snapshots will disqualify you from receiving the reward.
How will the winners be notified?
After completing all Giftbox tasks, a green checkmark ✅ will appear next to each task. You can check if you have won a prize at Giftbox's redeem center 48 hours after the event ends 13th May, 11 AM UTC.
How do winners claim their reward?
The winners will be airdropped the USDC rewards to their wallet address 48 hours after the event ends on 13th May, 11 AM UTC.
Can I store and hold USDC in any chain?
To fulfill the "Hold" task, the eligible tokens and smart contract for "Hold USDC" are listed below:
USDC (ERC20): 0xa0b86991c6218b36c1d19d4a2e9eb0ce3606eb48
USDC (AVAX): 0xb97ef9ef8734c71904d8002f8b6bc66dd9c48a6e
USDC (Polygon): 0x2791bca1f2de4661ed88a30c99a7a9449aa84174
USDC (BEP20): 0x8ac76a51cc950d9822d68b83fe1ad97b32cd580d
USDC (Arbitrum): 0xff970a61a04b1ca14834a43f5de4533ebddb5cc8
USDC (Optimism): 0x7f5c764cbc14f9669b88837ca1490cca17c31607
USDC (Fantom): 0x04068da6c83afcfa0e13ba15a6696662335d5b75
USDC on other chains cannot be verified for this task.

Full Disclaimer:

Activity Rules:

SafePal reserves the right to disqualify participants that are deemed to be spammers or illegally bulk registered accounts, as well as activities that display attributes of exploitation or market manipulation.
SafePal reserves the right to cancel or amend any activity or activity rules at our sole discretion.
Not Investment Advice
This activity does not constitute investment advice, financial advice, trading advice, or any other sort of advice and you should not treat any of the article's content as such. SafePal does not recommend that any cryptocurrency should be bought, sold, or held by you.
Cryptocurrency investment is subject to high market risks. Please invest cautiously. SafePal will not be responsible for any investment losses. SafePal will not be liable whatsoever for any direct or consequential loss arising from the participation of its activities.
Do conduct your own due diligence and consult your financial advisor before making any investment decisions.
Non-Endorsement
The appearance of a third party on SafePal and its activities does not constitute an endorsement, guarantee, warranty, or recommendation by SafePal.
Do conduct your own due diligence before deciding to invest in any third-party projects or use any third-party services.
About SafePal
SafePal is a comprehensive crypto wallet suite providing hardware wallet, mobile app, and browser extension wallet solutions. As a non-custodial wallet suite, SafePal aims to allow users to own their crypto adventure, by empowering them to access opportunities securely in the decentralized world.
The SafePal platform serves more than 10 million users across the globe and supports 15 languages, 100+ blockchains with their tokens and NFTs. It also encompasses crypto asset management solutions like cross-chain swapping, trading and yielding tools for users.
SFP is a decentralized BEP-20 utility token and the growth engine of the SafePal ecosystem, and can be used to purchase SafePal products at a discount, converted seamlessly to gas across chains in the app, in addition to rewarding token holders and education programs.